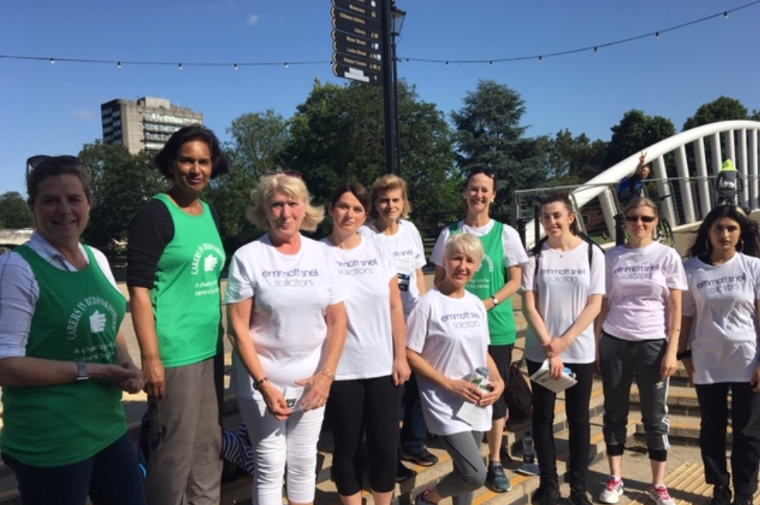 On 27th June 2019, Emmott Snell again took part in the annual Bedford Legal Walk, which is a 10K sponsored walk around Bedford, organised by the Eastern Legal Support Trust.
The walk raises money for local charities and organisations that provide legal advice to those of the most disadvantaged and vulnerable people in our society.
Due to and increase poverty and recession, the need for these has increased over the past few years.
Meanwhile, funding and support for these organisations has reduced particularly since the removal of much legal aid for humanitarian and social welfare legal advice.
This year, 43 walkers and 3 dogs took part in the Bedford Legal Walk and participants included our local circuit judge, HHJ Perusko and DJ Spinks.
The walk began at Riverside Square and took a circular route around the sights of Bedford prior to finishing at the Harpur Suite at Bedford's Corn Exchange, sponsored by Fenners Chambers where the walkers were greeted by Mohammed Yasin MP and treated to a well-deserved beverage sponsored by CILEX and a snack sponsored by Emmott Snell Solicitors.
The legendary Bedford Legal Walk raffle was also held at the end of the walk, which raised in excess of £200. The raffle was again organised by Emmott Snell's Jacqui Morton and Bernadette James and was a great success, being highly praised by all involved.
This year Emmott Snell's nominated charity is a local one - Carers in Bedfordshire - a worthy cause close to our heart.
If you have a spare 3.5 minutes do watch this video, which gives an idea about what many carers go through. Emmott Snell Solicitors were delighted to welcome two representatives from Carers in Bedfordshire to their team of walkers.
Emmott Snell are pleased to announce that we have so far raised in excess of £1,100. Emmott Snell would like to thank all those who sponsored us, all those who donated a raffle prize, and all of our fellow walkers.
Emmott Snell hopes that this worthwhile event will continue to grow each year and would encourage all local law firms and advice agencies to get involved.
There is still time to donate, so please feel free to donate any amount by visiting our fundraising page.