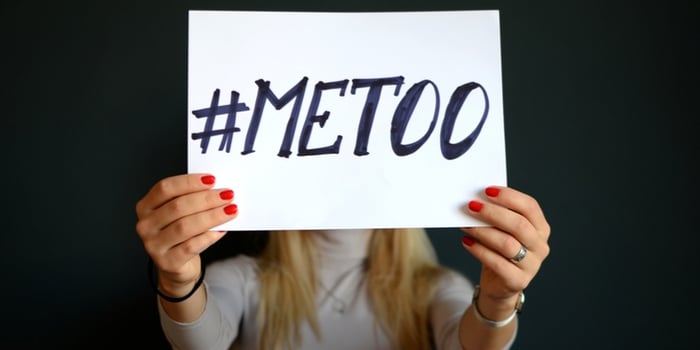 Allegations of sexual harassment and abuse have taken centre stage over the past couple of years.
The list of household names either prosecuted or under suspicion continues to grow. A recent wave of allegations includes James Franco and Bill Cosby. And only a few days ago the Glee actor, Mark Salling, was found dead (widely reported to be suicide) after pleading guilty in December to possessing child pornography. He was only a few weeks from being sentenced.
Woody Allen's daughter, Dylan Farrow has given an emotional interview to CBS This Morning recounting her father's assault on her in 1992 when she was only seven years old. Allen continues to deny the allegations alleging that Dylan was coached by her mother, Mia Farrow - something which Dylan and her mother vehemently deny. Allen has not been prosecuted, but it now appears that many actors and industry professionals are distancing themselves from him and choosing not to work with him.
The Harvey Weinstein sexual abuse scandal which saw a significant number of women (thought to be in excess of fifty) make allegations of sexual abuse, led to the inception of the #MeToo Movement social media campaign. As well as the Time's Up campaign, which aims to fight sexual violence and harassment in the workplace by lobbying and providing funding for victims who can't afford to pay for it.
We have previously published a blog looking at the perpetrators and victims in the entertainment industry. And in this blog post, we focus on specific cases that have brought sexual harassment and abuse in the theatre to the forefront, and what is being done to stop it.
Kevin Spacey
Former Old Vic Artistic Director and one of Hollywood's most famous actors, Kevin Spacey, is being investigated over allegations of sexual assault. On 16 November 2017 the Old Vic revealed after an internal investigation that twenty young men (most of whom were theatre employees) had made claims of inappropriate behaviour against Spacey. The claims ranged from being made to feel uncomfortable to sexually inappropriate behaviour.
The investigation revealed that most of the complainants felt unable to speak out against Spacey at the time. The theatre faced criticism for tolerating the abuse after suggestions that his conduct was an open secret.
What is being done to fight sexual harassment and abuse in the theatre industry?
On 27 October 2017 the Royal Court Theatre held a day of action where 150 testimonies of sexual abuse of power were read out over five hours. Of the 150 testimonies, 126 related directly to the theatre industry. Over half of these testimonies took place in rehearsals, backstage, in drama schools or involved sustained verbal abuse.
Subsequently, the Royal Court published a code of behaviour to prevent sexual harassment and abuse of power. This code features more than thirty recommendations in a bid to prevent sexual harassment and abuse of power in the theatre industry. The code focuses on the following:
Responsibility

Reporting

Raising Awareness

Breadth and Scope

Patterns and Scenarios
The London Old Vic has established a program for employees for reporting harassment, as an alternative to the more normal routes such as Human Resources. This program introduced Guardians, trained members of staff who would listen and offer confidential support and guidance in cases where a criminal offence is not suspected.
There's still more to do...
Following the wave of allegations in recent years, The Stage newspaper, a British weekly publication covering the entertainment industry and particularly the theatre carried out a survey of 1050 people who are or have been employed in the theatre.
The results of the survey, which were published last week, revealed that more than 40% of theatre professionals and students said they had been bullied, with one in three experiencing sexual harassment. Nearly 8% said they had been sexually assaulted at work. The survey also recorded several accounts of rape. Those most affected were backstage staff, creative staff and females. The harassment included inappropriate comments, unwanted sexual advances, touching and sexual intimidation.
Whilst it appears that steps are being taken to address sexual harassment and abuse in the theatre, clearly, there is more to do. Anyone experiencing sexual harassment, sexual abuse and or any form of bullying in the workplace, the theatre or in any other industry should report it straight away and if necessary to the police. It is abhorrent, cowardly and should not under any circumstances, be tolerated. In certain instances, it may give rise to a civil claim which can be a vehicle for appropriate redress.