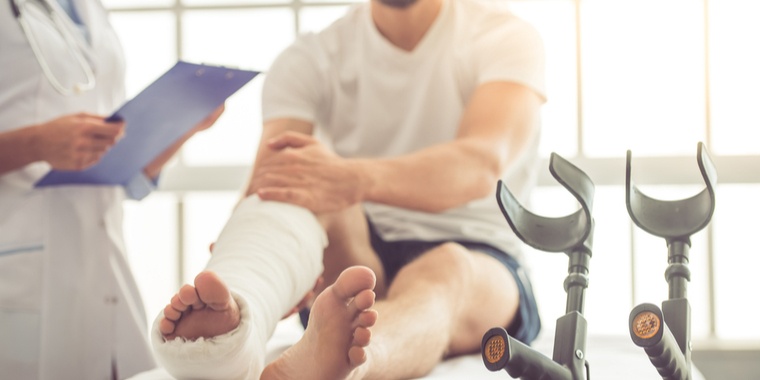 Every year a significant number of workers are made ill and/or injured at work. According to statistics released by the Health & Safety Executive :
137 workers were killed at work

31.2 million working days were lost due to work-related ill-health and non-fatal workplace injuries

1.3 million work-related ill-health cases

0 .6 million non-fatal injuries

0.5 million work-related musculoskeletal disorder cases

0.5 million of work-related stress / depression/anxiety cases.
The employer's duty
An employer has a duty to safeguard the health and safety of their employees whilst they are at work and should do whatever is reasonably practicable to minimise the risk of injury. An employer must be insured to cover any claims for personal injury brought by their employees and should display their employer's liability insurance certificate where it can be clearly seen.
How can an employer comply with their duty to safeguard the health and safety of their employees?
Examples of how an employer can comply with their duty to their employee include (but not limited to the following):
providing proper and adequate training

properly maintaining work equipment

providing the correct protective work equipment

providing competent colleagues

put in place safe working procedures

completing risk assessments

informing their employees of any potential hazards/risks associated with their employment
Does an employee have responsibilities?
An employee has a responsibility not to put themselves in situations where they are exposed to unnecessary risk of injury. An employee should take reasonable care for the health and safety of themselves/colleagues and cooperate with their employer to enable them to comply with their duty to keep you safe.
Types of accidents and injuries in the workplace
Accidents can occur in any workplace setting. Typically, these include the following:
manual handling (best described as any activity which includes lifting, pushing, pulling, moving and holding)

repetitive strain injury

slips trips (and often as a result of bad housekeeping, i.e. substances left on the floor

workplace traffic collisions (usually involving forklift trucks and other motorised vehicles)

exposure to noise (for instance in factories or in the entertainment industry)

defective machinery or equipment (usually found in factories and construction sites)
What should I do if I am involved in an accident at work?
Seek medical attention even if you consider your injuries to be minor. Your health and wellbeing should be your first priority.

Record your accident in the accident book (all businesses should have an accident book on site and inform employees where to find it). If you are not able to do this ask someone to do it for you or check it has been done when you are able to do so.

If there are any witnesses to your accident obtain their contact details.

Take photographs

Write down everything you can about the accident and keep any related documents

Keep a record of all your expenses and losses.
How do I claim compensation if I believe I have suffered injury as a result of my employer's negligence?
In the first instance you should seek advice from a solicitor who understands how distressing and debilitating injury can be and has expertise in this area. If you have not been able to access treatment your solicitor may be able to assist you with this. The success of your case and the amount of compensation you recover will depend on the lawyer you choose. It may assist you to look at your potential lawyer's website for case studies and written testimonials.
Much like any other personal injury claim, the claim must be brought within three years of the injury unless the injured person is a child in which case the time limit is their 21st birthday. Where a child has been injured during the course of their employment they will require someone to represent them known as a litigation friend. Your solicitor will gather evidence that supports your claim such as witness evidence and medical records regarding the injury.
Your solicitor will notify your employer of your claim. Your employer will have a fixed time period to investigate your claim and to say whether they accept responsibility for your accident. This investigation period varies depending on the value and/or complexity of your claim. If the defendant denies they are to blame your solicitor will examine their reasoning, any points of law and cases on which they may rely, and any documents they send to support their position.
If your solicitor continues to consider that there are reasonable prospects of a successful outcome to your claim, they will arrange for you to meet with an appropriate medical expert (depending on the nature of your injury) who will prepare a report dealing with the circumstances of your accident, diagnosis, any effect on your employment, day to day activities and relationships and prognosis and any recommended treatment. This report is a very important document and will assist your solicitor and the court decide on the appropriate level of compensation you should receive.
There are two parts to the compensation that you may be entitled to.
General Damages
General damages are the monies you receive for pain suffering and loss of amenity. The level of damages you can receive will depend on many factors such as:
Seriousness of injury

Recovery time

Impact on daily life
Special damages
Special damages are the expenses that you have actually incurred which may include:
Loss of earnings (from taking time off work)

Money spent on medical treatments as a result of the injury

Transport costs to treatment sessions
It is important to point out that no two cases are ever the same and the level of compensation can differ greatly between cases.
If the defendant continues to maintain they are not blame or you are not able to reach agreement on the level of compensation you should be awarded, it may be necessary to register your claim at court. This does not mean that your case will inevitably go all the way to trial. A claim can be concluded at any time up to trial by way of an out of court settlement.
Emmott Snell Solicitors have experience and expertise in the handling of claims involving injuries sustained as a result of an accident at work. If you have been involved an accident at work get in touch with us to see if we can help.