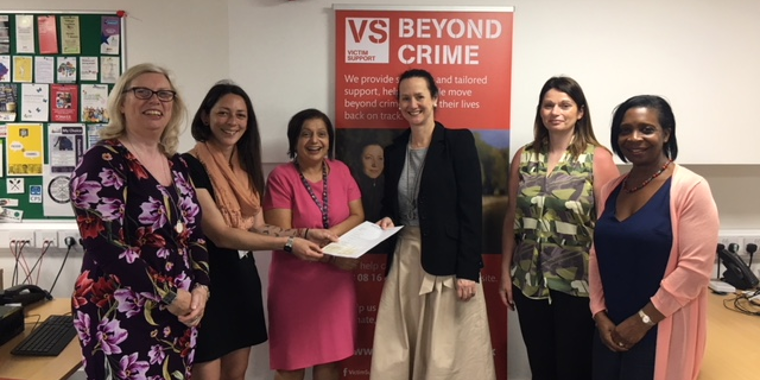 On Tuesday 8 May 2018 May, Tracey Emmott and Jacqui Morton of Emmott Snell Solicitors had the pleasure of visiting and meeting with representatives of Victim Support, Bedfordshire at their offices at Bedford Heights.
The purpose of our visit was to find out more about the services that Victim Support offer, and to present a cheque for £415.63 that we raised by participating in the 2017 sponsored Bedford Legal Walk.
Who are Victim Support?
Victim Support are a registered independent charity who support people who are victims of crime (including domestic violence and sexual abuse) or traumatic events.
Victim Support cites their vision to be "a world where victims and witnesses are given the support they need and the respect they deserve" and values as "compassionate, resolute, accessible and effective".
Their mission is to "provide victims and witnesses with high-quality practical and emotional support, champion the interests of victims and witnesses and construct a sustainable operating model utilising high quality staff and volunteers".
What services do Victim Support offer?
Victim Support offer confidential, free, practical and emotional support to those in need of their services.
This may include, but is certainly not limited to, the following:
Referrals to other agencies/organisations

Assistance with financial matters

Assistance with finding safe and secure housing/refuge for those in imminent danger

Sourcing household/practical items for those in need

Support in court

Assistance with legal/court forms and correspondence.
One service user of Victim Support said: "Having someone to just talk to and not judge you or to just listen; there are no words to describe how important it was for me".
People wishing to use Victim Support's services can contact them by via their specialist helpline, email or in person, and there is no obligation on the victim to report to the police.
How are Victim Support funded?
Victim Support receives funding from the Police and Crime Commissioners as well as other statutory and non-statutory bodies. Like most charities, they also rely on income from fundraising events and donations.
A significant number of Emmott Snell's clients have been the victims of crime and traumatic events. Some will have been referred to and assisted by Victim Support. There is no doubt that their work and the services and support they offer is invaluable.
What did Emmott Snell do to raise the funds?
On Thursday 21 September 2017, Emmott Snell Solicitors participated in the Bedford Legal Walk organised by the Eastern Legal Support Services.
The purpose of the walk was to raise funds for local advice agencies who provide free advice to those most in need. The need to raise funds for these agencies has grown due to reduced funding and an increase in poverty.
The 10km walk started at Riverside Square and ended at the Park pub for a well-deserved beverage, where a raffle was held to raise further funds.
Bedford Legal Walk 24 September 2018
This year's Bedford Legal Walk will take place on Monday 24 September 2018 at 5.30pm.
We would encourage local solicitors and advice agencies to participate by entering a team, donating raffle prizes, sponsoring water or volunteering as a marshal.
If anyone is interested in hearing more about the walk or volunteering their services, please contact Jacqui Morton at Emmott Snell Solicitors on 01234 360140 or enquiries@emmottsnell.co.uk. The more the merrier!
Tracey Emmott and Jacqui Morton would like to thank all at Victim Support, Bedford for their hospitality and time on 8 May 2018.