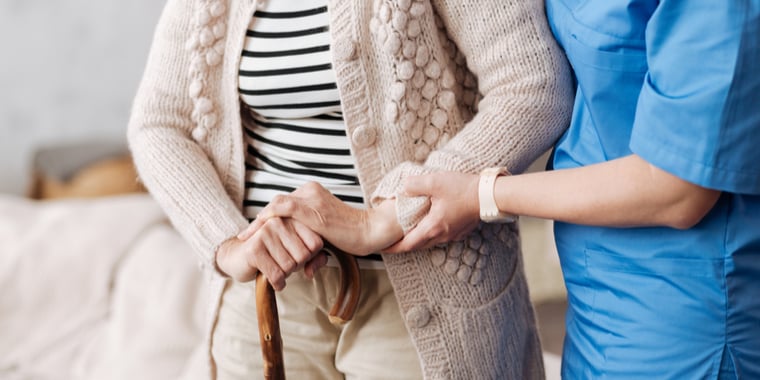 A significant number of our elderly and most vulnerable members of society live in care homes (for a variety of reasons). Those of us who have relatives who are being looked after in these homes are entitled to expect them to be safe and well cared for. Whilst most do, sadly there are some whose care is below the required standard leaving its residents open to harm, abuse and injury.
Care homes have a duty of care to all residents and should provide adequate care to avoid injury and harm to their residents.
Case Study
Emmott Snell Solicitors recently represented X and Y, the trustees of their mother's estate who shall be referred to as Z from this point. Unfortunately. Z suffered injury in a care home when being negligently transferred by her carers, leading to her hospitalisation and tragically, to her subsequent death.
Background to case
At the time of her injury Z had been a resident at a care home in Hertfordshire for over three years. As a result of her physical conditions and ill health she was immobile, and on occasion required her to be hospitalised.
Prior to her injury Z had been hospitalised, and was physically weaker than her pre-hospital admission. A few weeks after her discharge from hospital Z was attended to by two carers who were transferring her using the assistance of a standing hoist. A sling was placed around Z which was attached to the standing hoist and her feet were placed against the plate to keep her in place. As she was being transferred, she told the carers that she was slipping. The carers did not heed this warning and continued with the transfer. As they did so, Z slipped from the hoist and fell to the floor. The carers moved and lifted her on to the bed before she was assessed by medical attendants/paramedics. Z was taken to the hospital where she was diagnosed with a fracture at C2, dislocated left shoulder, haematoma to the back of her head and bruising to her left leg. Approximately 5 days after her arrival Z developed a chest infection. Sadly, her condition deteriorated, and she passed away as a result of the hospital acquired pneumonia.
The incident was referred to safeguarding, the Care Quality Commission (the "CQC") and to the Hertfordshire Police SAFA Unit.
The Care Quality Commission is the independent regulator of health and social care in England. Their role is to ensure that the care provided by care homes is safe, effective, compassionate and of a high quality. They do this by registering care homes, monitoring, inspections and ratings.
A Safeguarding Adults Case Conference was convened at which it was accepted that the carers effecting the transfer of Z had been negligent. Further, allegations of organizational neglect and acts of omission were substantiated and unanimously agreed following the CQC's investigations that there had been no contingency plan in place for transfers or when Z's health deteriorated. In addition, the minutes of the conference stated that disciplinary action should be brought against the responsible individuals and strongly recommended that disciplinary action should be "opened up on a wider scale and to include the management in the care home."
The civil claim
Z's sons contacted Emmott Snell Solicitors (on Z's behalf) and instructed us to pursue a civil compensation claim against the care home. Sadly, Z died some weeks after they contacted us. X and Y as Executors of Z's estate continued the claim on her behalf. under the Law Reform (Miscellaneous Provisions) Act 1934.
A letter of claim was sent to the care home alleging negligence. The defendant care home passed it to their solicitors who admitted liability and put forward an early offer of settlement which was not satisfactory to X and Y. Not only was the offer low but it was subject to a compromise agreement. Z's medical records were collated, and a report obtained from a consultant in geriatric medicine. The expert opined that If Z had not been admitted to hospital, she would not have developed hospital acquired pneumonia. The claim proceeded on the basis that the death was caused by the negligence.
Z's estate was able to claim for the pain, suffering and loss of amenity which she endured before death and which she would have been able to claim for herself had she not have died. In addition, they were able to claim for funeral and related expenses. After negotiations, X and Y were offered a five-figure sum by way of an out-of-court settlement by the owners of the care home.
Whilst no amount of money can make up for the harm suffered by Z it is hoped that the bringing of the claim will highlight the failings of the particular care home and lessons will be learned.
Sadly, the above case is not isolated and highlights the importance of safeguarding in care homes. The safety and wellbeing of all elderly and vulnerable members of our society should always be a priority. The implementation of adequate and effective safeguarding policies and risk assessments should prevent or reduce the risk of those residents in a care home suffering harm.
If you or a loved one has suffered injury in a care home or similar setting and would like to discuss a possible civil action seeking accountability and compensation please contact a member of Emmott Snell Solicitors on 01234 360140, we are here to help. Alternatively, download our free e-book below for more general information on personal injury claims.
Stay safe and well.