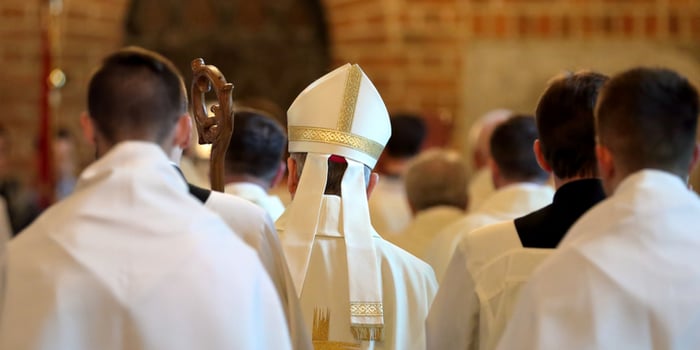 Once again the Church of England is suffering the discomfort of more public spotlight following the airing of 'Exposed: The Church's Dark Secret' on BBC 2 this week. The documentary details the former Bishop of Lewes's predatory behaviour towards young, vulnerable boys and men, most of whom had joined his religious Order, and the church's wholly negligence response to numerous complaints about him over many years.
The Diocese of Chichester in which Peter Ball officiated as suffragan bishop between 1977 and 1992 has been plagued by very serious allegations against many of its priests in recent years, together with safeguarding failures and institutional cover ups.
It is truly shocking that from within such a small geographical area such a large number of clergy have been convicted of offences against children. Many other allegations have been made but not proved, mainly because the offences were reported after the perpetrators had died.
I have represented many victims of clergy abuse in Chichester (including those abused by Peter Ball) in civil actions against the church.
Their betrayal by respected and revered members of the established church has been immense. It is not an exaggeration to say that the toxic combination of sexual, emotional, pastoral, and spiritual abuse often leaves irreparable and life long damage.
The priests who have been convicted of sexual abuse in the Chichester Diocese include:
Former Bishop Peter Ball
In October 2015, former Bishop of Lewes Peter Ball was convicted of a number of offences against teenagers and young men, and sentenced to 32 months in prison. He was also convicted for misconduct in public office. He had previously been cautioned in 1992 for indecent assault of a young man Neil Todd whilst he was Bishop of Gloucester.
Rev Roy Cotton
Vicar of St. Andrews church in Eastbourne and then Brede & Udimore, Roy Cotton seemed to be most prolific in the 1970's and '80's, abusing scores of boys associated with his parishes. A number of his victims were pairs of brothers, most notably Phil and Gary Johnson who waived their anonymity following their successful civil claims, in their efforts to call out the way the Chichester Diocese had failed in safeguarding them and others from this paedophile priest.
After the multiple disclosures by Roy Cotton's victims from 2008 onwards (unfortunately after his death) it was revealed that Cotton had pleaded guilty to a charge of indecent assault of a child in 1954 whilst in his former diocese.
Rev Colin Pritchard aka Ifor Whittaker
In 2008, Colin Pritchard was convicted of gross indecency and indecent assault over offences which took place in Wellingborough and Peterborough where he had served as a vicar after he had been a priest in the Chichester diocese.
Some of these offences occurred when he took boys down to see his old friend Roy Cotton in Chichester. Then only last month having served his prison sentence new allegations resulted in his further conviction, this time of more serious offences in relation to when he was vicar of St John the Baptist church, Seddlecombe in the 1980s and 90s. Importantly he was also convicted of conspiracy with Roy Cotton, and was sentenced to 16 years in prison.
Canon Gordon Rideout
In 2013, Rideout was found guilty of a catalogue of non recent sexual assaults mainly on children in a Barnardo's children's home (Ilfield Hall, West Sussex) he used to visit in his capacity as curate of the local parish church, St Mary's. He was sentenced to 10 years' imprisonment having been found guilty of indecent assault and two counts of attempted rape on 16 children between 1962 and 1973.
Rev Jonathan Graves
Only last year Graves who was the vicar of St Luke's Church, Stone Cross was convicted for sexually abusing 2 boys between 1987 and 1992. His offences involved plying his victims with alcohol, tying them up, urinating on their heads and beating them with whips and canes. He was sentenced to 10 years in prison.
Rev Vickery House
In 2015, House who had been a vicar in Berwick, East Sussex was sentenced to 6 and a half years for five counts of indecent assault against a boy and three men in 1970s and '80s. He worked under Peter Ball who was at the time Bishop of Lewes, and ran the Give a Year to Christ scheme with him.
Rev Robert Coles
In 2013, Coles who had been parish priest in Horsham, West Sussex pleaded guilty to 11 charges of indecent assault in relation to boys between 10 and 16 years old.
During the trial it was heard that he disclosed his sexual abuse of one of his victims to the then Bishop of Lewes, Rt Rev Bishop Wallace Benn but this was never passed on to the police.
It was not surprising therefore that the Diocese of Chichester was selected by IICSA to be a case study. Of the report published afterwards Professor Alexis Jay said:
"Peter Ball is one example of how a senior member of the clergy was able to sexually abuse vulnerable teenagers and young men for decades. The public support he received is reflective of the Church's culture at the time; a support that was rarely extended to his victims."
For years, the Diocese of Chichester failed victims and survivors of child sexual abuse by prioritising its own reputation above their welfare. Not only were disclosures of abuse handled inadequately by the Church when they came to light, its response was marked by secrecy and a disregard for the seriousness of abuse allegations.
Given the evidence it is not unreasonable to speculate that the during 1970s and 1980s some form of conspiracy existed amongst a number of clergy in the Chichester area which involved the abuse of children. The conspiracy conviction of Ifor Pritchard referred to above to an extent, confirms this.
These priests took advantage of the prevailing culture at the time, when sexual abuse was barely spoken about, such that it was inconceivable that revered, often charismatic and much loved individuals would commit crimes against children.
As a victim of Peter Ball so eloquently put it when giving evidence at IICSA last year "The matter is not about sex: it is about control — the lust for control".
The Archbishop of Canterbury himself told IICSA that it was an abuse of power which lay at the heart of sexual, emotional and spiritual abuse.
He said he felt ashamed of the Church of England, and said that survivors must be treated as if of equal value as the person being accused of abuse.
The appalling abuse committed by the numerous priests and associates in the Chichester Diocese must never be allowed to happen again. Nor should we ever see such a lacklustre, ineffective and negligent response and cover up from the church authorities when abuse is reported, as was so evident in the Peter Ball case.