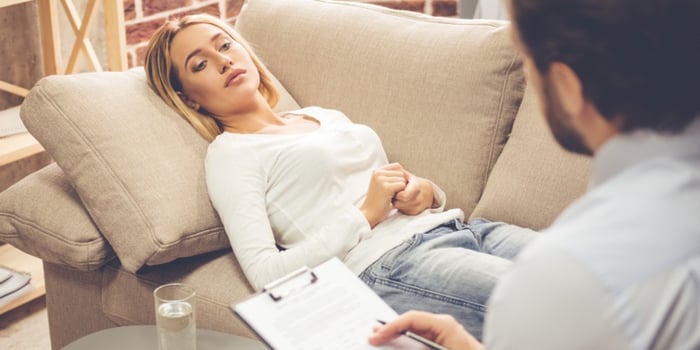 Therapy or counselling with a qualified professional is intended to bring about psychological restoration and recovery, and is usually wholly beneficial and life changing for a client.
Regrettably, the therapeutic relationship can sometimes be manipulated to suit the therapist's own ends. The context of the one-to-one meeting between client and practitioner, and the nature of the interaction between them in which profoundly private and intimate details are shared by the patient, makes it possible for abuse to occur.
The patient usually presents in emotional turmoil and in need - the reason for engaging a therapist in the first place - yet can be violated by the very person who is meant to be helping them to get better. The client's vulnerability is exploited within the unequal therapist / patient power relationship.
Many practitioners offering counselling or psychotherapy are governed by the British Association for Counselling and Psychotherapy (BACP) or the United Kingdom Council for Psychotherapy (UKCP).
BACP 's Ethical Framework for Good Practice in Counselling is a comprehensive document that sets out values, ethical principles and guidance for practitioners.
Across the 6 ethical principles enshrined is that of a commitment to avoiding causing harm to the client. This involves avoiding sexual, emotional, financial or any other form of exploitation. Being trustworthy is another principle, regarded as fundamental to resolving and understanding ethical issues. And the principle of 'beneficence' is a commitment to promoting the client's wellbeing and acting in their best interest.
However, unfortunately, abuse in therapy can occur. In this blog post we outline the types of abuse in therapy, and provide advice on what to do if you've been a victim, including how to make a compensation claim.
Types of abuse in therapy
Abuse in therapy can take different forms. It can be malpractice (which may also amount to emotional abuse), or it can involve sexual assaults. Both can be profoundly damaging to the client.
Malpractice
I have represented clients who have given evidence of:
emotional manipulation by the therapist,

a crossing of personal boundaries,

breaches of confidentiality,

the therapist encouraging a dependency so that treatment becomes protracted without significant progress,

the therapist undermining, belittling or disrespecting the client,

the therapist verbally abusing the client.
Sexual assaults
Where boundaries have significantly eroded and a culture of dependence has been cultivated by the practitioner, the patient's vulnerability may be taken advantage of, such that a physical relationship develops.
This is probably the most well known form of boundary violation. An intimate relationship may start with, for example, a goodbye embrace, which may progress to flirting, and then become sexual. Ultimately, this may lead to the client developing strong feelings, which may or may not be reciprocal. It is not unheard of that the patient can be persuaded that the sexual intimacy is simply part of their therapy.
What can you do if you have been subject to malpractice or abuse in therapy?
If your therapist is a registered member of BACP and you are unsure about your therapy, you can contact the Ask Kathleen service which is a confidential service providing advice and guidance on any concerns you have.
Both the BACP and the UKCP have formal complaints processes. For details on how to make a complaint through the BACP click here, or for UKCP complaints click here. You'll also find contact details for other complaints systems through the Professional Standards Authority.
1. Report to the Police
If a criminal offence has been committed against you, you should report the matter to the police immediately. Sexual assaults by a therapist amount to a breach of trust and a police investigation and subsequent criminal prosecution can follow. If found guilty, the perpetrator could usually receive a prison sentence.
It is important that offences are reported as soon as possible after they occur. The more evidence you can present the better, so any diaries or records of complaints made by you will become critical in your legal claim.
2. Civil compensation claim
A civil action serves to compensate a victim of abuse who has suffered harm as a result of the abuse in therapy, providing proper redress. A compensation claim would usually (but not always) follow successful criminal proceedings. It can also follow a complaint to the therapist's registered body.
The legal claim is initially directed at the perpetrator of the abuse who passes it to their insurers, provided they had insurance in place at the relevant time. Insurers would investigate and deal with the claim from then on. If no insurance was in place, the victim's only remedy is directly against the therapist. This option may be more limited if the therapist does not have any assets to pay any damages (compensation).
A client I recently represented said of her successful civil compensation claim arising from being sexually abused in therapy:
"Life is real good. I have a sense of calm, peace, and growing self-esteem because I am free from X. I stood up to him, despite his threats decades ago. And it feels really good. No more nightmares, waking feeling yuck, flashbacks. Anxiety, depression, mood swings, anger - all gone. It's fantastic".
Seeking support
Taking the initial step of speaking out about what is happening in therapy can be daunting. If you consider that you have been violated within the therapeutic relationship, it's essential you obtain the correct support immediately.
If you require support in reporting it to the police, then you can contact your local Independent Violence Sexual Advisor (ISVA). For a list of ISVAs local to your area click here.
You may get practical support from the Clinic for Boundary Studies here. Organisations such as AdvocateWeb and Therapy Exploitation Link Line can also offer support.